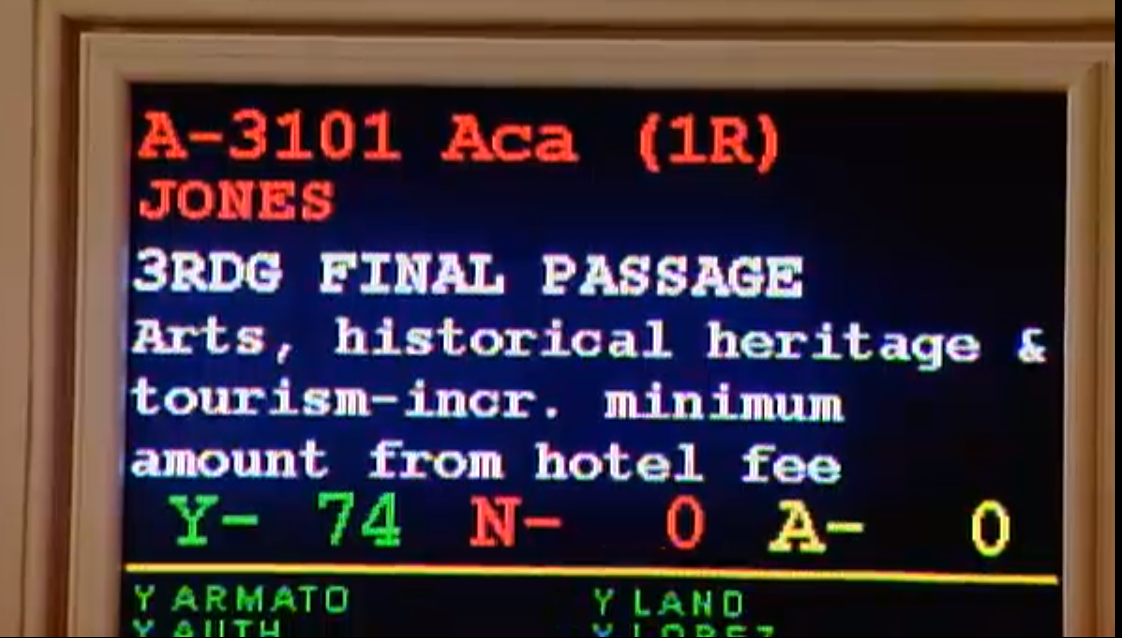 Are we ready for 2020? You bet!
In 2019, ArtPride pushed hard to correct a problem that has throttled funding for the arts, history, and tourism for 10 years.  In December, through aggressive and strategic advocacy, Assembly Bill A3101 passed unanimously in the NJ State Legislature. This bill amends the 2003 law that created the NJ Hotel/Motel Occupancy Fee, which specifies funding levels for state arts, history, and tourism programs from a dedicated revenue source. Minimum levels of support dating back to FY04 have not changed in more than a decade.  So now it's 2020, and a bill to correct this awaits Governor Murphy's signature. We are actively urge him to sign it, and you can too!
Why is this important? What are those levels? What problem does this fix?
The Hotel/Motel Occupancy Fee became law in 2003 and authorized municipalities to levy by ordinance a fee for occupancy of a hotel room that is collected and forwarded to Trenton. For it, towns would receive 60% back on top of any other state municipal aid. The other 40% was dedicated for the state's arts, history, and tourism programs.  In the first year (FY04), these programs received lesser amounts until the fees were collected. In year two (FY05), however, full appropriations set forth in the Act were made. This continued in FY06.  New Jersey now achieved something no other state in the country had at that time—a dedicated revenue source for arts, history, and tourism that did not depend on annual budget battles in Trenton, and robust and sustainable appropriations that would grow as the revenue source grew.
It was a fight hard-won. Then Governor McGreevey had proposed zero funding for arts, history, and tourism for FY04.  ArtPride led a resourceful and unrelenting citizen's campaign throughout the spring of 2003. Many ideas for rescue were considered.  In the 11th hour of the budget-making process, Assemblyman Roberts introduced legislation creating the Hotel/Motel Occupancy Fee, a vehicle to fund arts, history, and tourism. It passed in the Assembly, but largely along party lines.  In the Senate, S2670 was introduced, doing the same, but the Senate was deadlocked, 20/20, R-D.  Passage required one Republican to vote in support, and Senator Lance was that person. This legislation, however, was a mandate, and not constitutionally required. It could change in the future, so a stipulation was added that if, for any reason, a future legislature failed to appropriate funding at least at the first year level (FY04), the fee would dissolve altogether. Remember, the FY04 level was arbitrarily low.
Initially, all worked well. For example, the State Arts Council's appropriation rose from $16M in FY04 to $22.68M in FY05, the level specified in the law. Increases of similar magnitude went to the NJ Historical Commission and Division of Travel & Tourism. Scores of municipalities enacted the necessary ordinances. Revenue grew quickly and today is projected at over $120M annually. However, beginning in FY07, facing stiff financial challenges, state leaders realized that they did not have to appropriate the funds any higher than the minimum FY04 levels for revenue to keep flowing in. For the last 10 years, the state cultural agencies were frozen at those minimum funding levels, missing tens of millions of dollars.
Since total revenue has always exceeded the amount needed to fund arts, history, and tourism at correct levels specified (FY05), the remainder has presumably been redirected to the general fund and appropriated for needs not set forth in the enabling legislation. Yet over this 10-year period, state revenue from Hotel/Motel has grown by 30%, and will increase even more substantially as fees are now collected from transient online rentals (e.g., AirBnB, VRBO).
For a decade, ArtPride campaigned to correct the technicality in the law that allows the governor in the state's annual budget and the legislature to act contrary to the specific directives of the law and restore funding levels to those in FY05. Several bills have attempted to amend the Hotel/Motel Fee's enabling legislation. Each year ArtPride, along with arts, history, and tourism advocates, has testified before the legislature to remind our elected officials of a promise and mandate made back in 2003 that remains unfulfilled.
In 2018, Senator Singleton introduced S247, which would amend the Hotel/Motel Occupancy Fee to be faithful to its letter of the law. It resets the minimum appropriations at FY05 levels. A companion bill, A3101, sponsored by Assemblywoman Jones and Assemblymen Benson and Land was introduced soon after. The Senate bill passed swiftly, but the Assembly version stalled in committee until this past November, when it came before the Assembly Appropriations Committee. A3101 was substituted for S247 and had 37 bipartisan sponsors, which ArtPride and advocates worked hard to muster. It passed unanimously on December 17, 2019.
The bill now awaits Governor Murphy's signature. It has taken ten hard years for the NJ state legislature to understand and recognize that by passing A3101 and honoring a bill passed in 2003, arts, history, and tourism can boost our economy, create jobs, improve schools, and revitalize downtowns. We are counting on Governor Murphy to agree and sign the bill by January 14.