It's back to school time and that means this week is National Arts in Education Week. It is such a critical time to show your support for arts education in New Jersey. Arts education creates not only artists but well-rounded humans that thrive in creative workplace environments.
Now, if you aren't familiar with this national celebration, here is a little background provided by our friends at Americans for the Arts:
"Passed by Congress in 2010, House Resolution 275 designates the week beginning with the second Sunday in September as National Arts in Education Week. During this week, the field of arts education joins together in communities across the country to tell the story of the impact of the transformative power of the arts in education."
During the 2016-2017 school year, more than 1 million students participated in an arts class, representing 80% of all students across the state. New Jersey's arts education is thriving, now let's do more!
This year, Arts Ed NJ  has taken the lead in New Jersey by collecting arts education celebrations across the state. Big or small, we encouraged teachers, students, organizations, and communities to submit their events for our Arts Ed September Event Calendar.
Hosts of the events will have the option to receive:
custom geofilter
Facebook profile frame
downloadable graphics
access to tools and resources for the classroom
promotion of their event on social media and on our website
opportunity to bring Arts Ed Now to your events all year long
 
In addition, we are co-hosting an event on September 12 called "NJ Celebrates Arts in Education Week." All are welcome to attend this event, featuring the New Jersey State Teen Arts traveling exhibition and special performances by State Teen Artists. The reception is sponsored by N.J. Principals & Supervisors Association & Arts Ed NJ in collaboration with the Arts & Education Center. Learn more at https://www.njteenarts.com.
Not only will we be promoting events during National Arts in Education week, but the celebration will continue for the remainder of the month through the Arts Ed September promotion. With this spotlight on arts education events, we are encouraging engagement in and access to the arts, as well as highlighting information and tools that give you power to make change in your district. Celebrating arts education shouldn't just happen on dedicated weeks or months but all year long, and www.artsednow.org can show you how.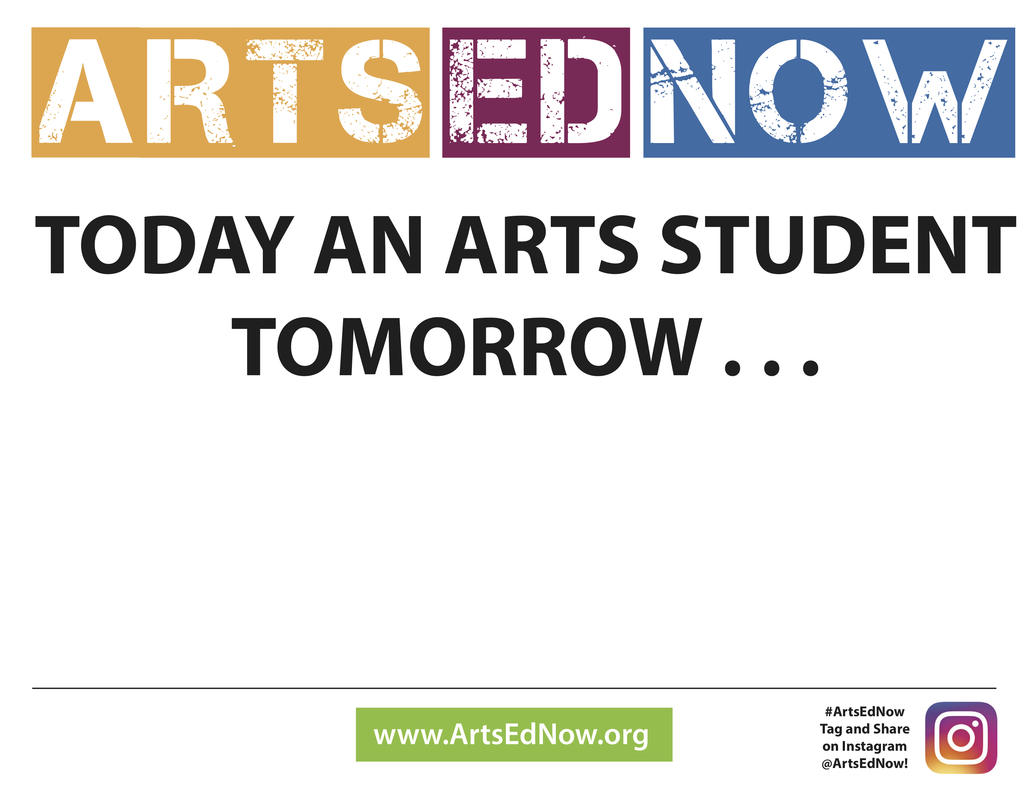 Curious on how your school compares to others? Go to artsednow.org and enter your school name to see the latest data on arts education for your area.
Want to join in on the fun? Go to www.artsednow.org/stories and download a "Today" or "Yesterday" sign. Fill it out, snap a photo, and share your story of the impact of arts education in your life on social media.
Don't forget to use #ArtsEdNow and #BecauseofArtsEd and share in the celebration! Let's get N.J. trending!