Did you attend an arts event last year? A performance, exhibit, music festival, or poetry reading?  If you did, you are in great company. New Jersey nonprofit arts groups drew more than 7.5 million people to their programs in 2015—that's four times more than all New Jersey professional sports events! And those same groups and audiences generated a half billion dollars for the state's economy. When you went to an arts event, did you by any chance stop for a bite to eat? Pay for parking? Fill the tank? Pay a babysitter? What about that gift shop nearby; did you stop in to buy a birthday gift? Maybe you purchased a lovely scarf at the museum store? Nearly all arts participants spend something more than the ticket price—much more.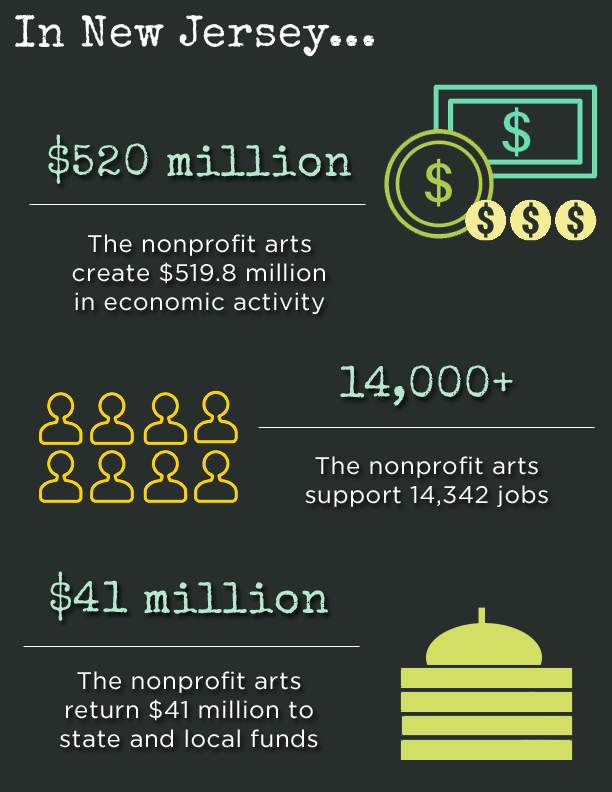 Our 7.5 million arts patrons spent an average of over $31 for a wide variety of goods and services. And 1 million visitors from out of state spent more than $50 each. Patron-related spending totaled more than a quarter billion dollars, demonstrating that arts activity supports other industries and local businesses. ArtPride New Jersey is proud to have recently released the results of yearlong research that studied spending by NJ arts and cultural organizations, along with the spending habits of people who attend their events. The project is part of Americans for the Arts' national Arts & Economic Prosperity 5 study, supported by funding from the Geraldine R. Dodge Foundation, the NJ State Council on the Arts, and an anonymous donor.  It examined how nonprofit cultural groups contribute to the economy, from meeting payroll and mounting productions down to office supplies and professional services like accounting, custodial, and legal. But why, you might ask, is this important? Simply put, because it gives the arts a powerful tool by which to demonstrate yet another way that they have profound positive impact on our lives and communities, and deserve public and private support. It all started with the 1993 Port Authority of NY & NJ study The Arts as an Industry—Their Economic Importance to the New York-New Jersey Metropolitan Region.  Jaws dropped to learn that the arts at that time contributed more than $5.6 billion to the regional economy. Yes, that includes Broadway, but that is still billions. New Jersey leaders were among the first nationwide to explore the impact of the arts for an entire state.  In 1994, under the auspices of the NJ State Council on the Arts and the South Jersey Cultural Alliance, a report was released using data from Arts Council grantees, which showed that direct spending by arts groups and patrons totaled $272 million.  The study was updated in 2001 and 2009, each one revealing sizeable increases in economic activity from the previous report. It is now very clear that New Jersey's arts mean business.  They mean jobs.  They mean downtowns that are more vibrant, and the impact continues to grow.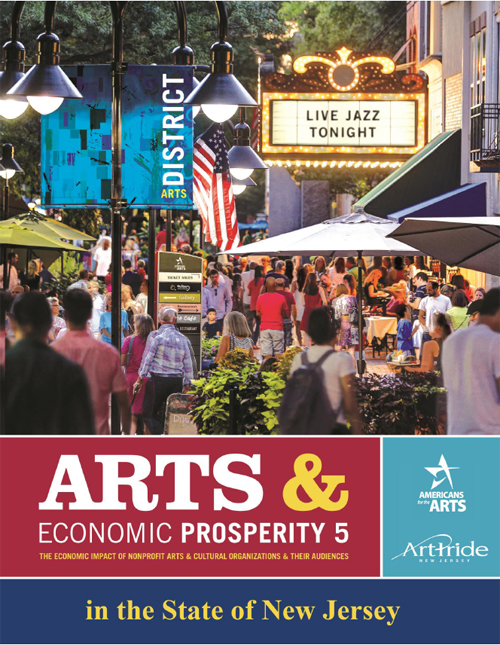 This data, especially when we marry it to compelling personal stories that illustrate how art changes people's lives, can be tremendously helpful and persuasive to policy makers and elected officials who face hard choices.  It reminds government and business leaders why investment in the nonprofit arts is an investment in healthier communities. For instance, the recent study shows that the arts generate more than $41 million in local and state tax revenues—nearly triple the amount of funding annually appropriated to the NJ State Council on the Arts. Thus, state spending represents about 3 cents of every $1 dollar of economic impact. This is a tremendous return that can only grow with larger state investment.  The ArtPride website holds all the delicious study details. ArtPride New Jersey is using this new data as part of its campaign to make a difference in the upcoming gubernatorial and legislative elections.  All 120 seats are up.  Each candidate was just mailed a survey that asks about arts policy and funding (also available online). Your active involvement is needed to urge candidates to complete their survey.  Responses will be posted online to inform voters in the November election.  And guess what? The recent study also revealed that nearly 90% of over 4,000 people surveyed voted or planned to vote in the 2016 election. The arts and arts voters mean business and ArtPride NJ is dedicated to making sure they have all the tools they need to remind policy makers that when you invest in the arts, you in invest in a better NJ and in concrete ways that improves everybody's bottom line.