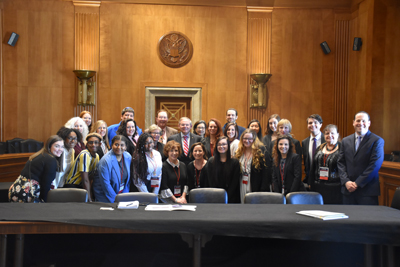 ArtPride works with elected officials, policy makers, community leaders, and collaborating partners to advance a public policy agenda that focuses on local, state, and federal issues of concern facing New Jersey's creative sector.
Public Policy Agenda
Arts Organizations
---
Artists
---
Art in Communities – Public Value & Solutions to Social Issues
Conduct research on arts participation and economic activity (Arts in Economic Prosperity Studies)
Establish Mayors Committee on Arts & Economic Development (NJ League Of Municipalities)
Seek funding and professional development opportunities for arts in redevelopment (New Jersey Redevelopment Authority)
Partner with the National Consortium on Creative Placemaking, Creative New Jersey, Sustainable Jersey
Increase cultural tourism in New Jersey
Encourage Cultural (Artist) Districts, cultural plan development, and arts inclusion in Municipal master plans
Support Arts in Healthcare initiatives (Art Matters NJ, Cultural Access Network) and Arts in the Military initiatives
---
Arts Education 
Promote the recommendations of the NJ Arts Education Census Project 
Support the Arts Ed Now campaign to increase student participation in the arts
Advance STEM to STEAM arts integration initiatives
---
Individual Philanthropy
Support deductions on NJ taxes for donation to all charitable nonprofit organizations
---
Have a question regarding our Public Policy Agenda? Contact Ann Marie Miller in our advocacy department.  
Action Alerts  Research  Arts Advocacy Toolkit 
"Policy requires action to reach implementation and permeate down into our communities and arts programs – at both the grassroot and the grasstop levels. Through advocacy, we push for policy changes to be reflected in our laws. If you are an arts professional, you know the transformative value of the arts and you realize the potential of creating polices across disciplines that include art components." Americans for the Arts, americansforthearts.org