In today's American culturescape, the performing arts center (PAC) is often the anchor arts institution and a key contributor to local economic rejuvenation. The PAC delivers short-term fiscal impact with its ongoing schedule of events drawing visitors whose spending in the surrounding commercial milieu creates a "ripple effect" that circulates revenue throughout a network of restaurants, retail shops and event-related service providers from parking lot attendants to street buskers. But when the PAC is not hosting a major concert or show event, how else can it advance the community's push toward long-term economic growth? Union County Performing Arts Center has been a top-tier economic generator in Rahway, New Jersey, since opening in 1928 as the nation's first "million dollar" movie palace. Reconstituted in 1985 as a 1,334-seat multi-genre concert venue, UCPAC and its sibling spaces (199-seat Hamilton Stage, 65-seat Loft) annually present more than 300 events encompassing a wide range of music, dance, theatre, film and comedy shows. As a core member of the Rahway Arts District, UCPAC's staff and Board of Trustees have found several ways to enhance the District's development with programs that increase interaction between the arts center and the community.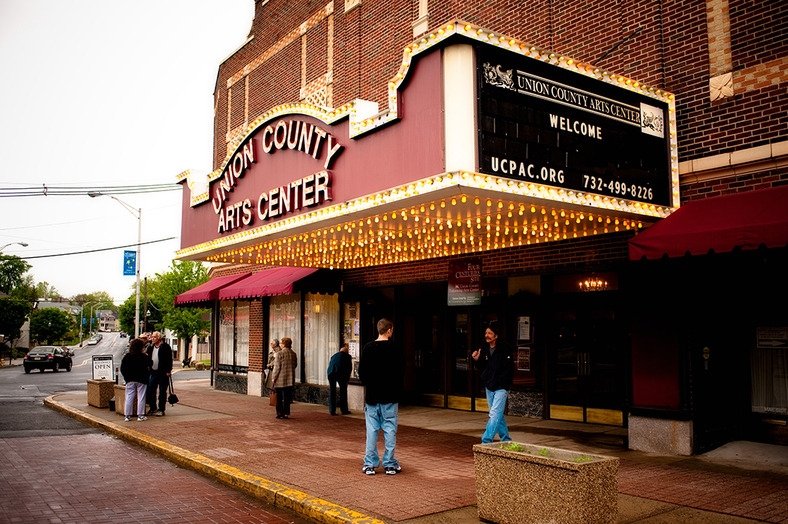 Open the doors to local artists

. PACs are typically viewed as only presenting national and international touring talent. UCPAC cultivates numerous local theatre and dance companies, musical ensembles and individual artists offering music showcases, acting workshops, salsa dance classes, vocal competitions, new play festivals. The local producers bring in a wide variety of new patrons, and more revenue stays in the local economy.
Institute innovative arts education programs

. To flourish in the current economic climate, a PAC must actively foster the next generation of artists and arts audiences. Along with its annual Children's Theatre Camp, UCPAC recently started the Rahway Digital Arts Academy, an arts-based curriculum designed to teach middle and high school students basic audio, video and web production skills.
Partner with local government

. UCPAC hosts several Union County programs (Sensory Friendly Theatre concerts and plays for children with autistic and other sensory sensitivites, the Union County Advancing Community Theatre program assisting local drama companies, Union County Means Business seminars, Teen Arts Showcase); the City of Rahway holds its Mayor's Summer Concert Series and State of the City events at UCPAC venues, along with city-sponsored talent shows, Black History Month celebrations, high school and college Step Competitions.
Partner with established educational institutions

. UCPAC rents its annex building to Union County College, which utilizes the facility for its Rahway satellite campus offering classes in business development, continuing ed and college credit courses; UCPAC also houses the award-winning Paper Mill Playhouse Musical Theatre Conservatory each summer along with events featuring Rahway Middle and High School arts students. Programs like these — and the government partnerings above — bring visitors from across the region to Rahway Arts District throughout the year, visitors who not only become more aware of UCPAC show events but keep in constant motion the revenue "ripple effect" benefitting local businesses.
Collaborate with local businesses and nonprofits

. In addition to seeking event sponsorship links with area stakeholders, UCPAC provides space to hold arts-related conferences, fundraisers and workshops; Rahway Chamber of Commerce, Downtown New Jersey, RSI Bank, United Way, Franklin Covey, Gateway Family YMCA, NJ Theatre Alliance, Merchants and Drovers Tavern Museum are a few of the clients that make up approximately 15% of the center's annual facility use.
Seek new presenters that bring new audiences

. Central New Jersey is one of the most ethnically diverse regions in the United States. For over a decade, UCPAC has welcomed outside producers introducing top-level performers from Eastern Europe, South Asia, Latin America, Africa and the Caribbean; these concerts attract a fresh, dynamic patron base and generate a vastly expanded media outreach to multiple markets not usually within the PAC's purview.
Host events that encourage community

. Nonprofit fundraising events often target limited donor categories; with events like Wine, Cheese & Chocolate Party of the Year and Summer Craft Beer and BBQ Fest, UCPAC creates accessible, informal gatherings that invite more broad-based participation from a wider range of the community.
WE'VE ALL HEARD the sales mantra, "ABC: Always Be Closing". For cultural organizations in 2015 seeking to aid local economic revitalization efforts, that mantra becomes"ABC:  Always Be Cultivating". The contemporary PAC must find new ways to let more potential patrons know it is not only a spot for occasional entertainment ... but a valuable and versatile resource for reshaping their community on a daily basis. — Lawrence E. McCullough, Ph.D. is Executive Director of Union County Performing Arts Center, Rahway, New Jersey. For information on the center's history and schedule of events, visit www.ucpac.org.