Join other arts supporters from around the state in making a tax-deductible donation to the ArtPride New Jersey Foundation. As a 501(c)(3) nonprofit organization, we are dedicated to advancing, promoting, and advocating for the arts in New Jersey. Your donation enables us to continue our vital work of increasing arts awareness and participation, protecting public arts dollars, providing research to the cultural community, and fostering cross-sector partnerships that increase the public value of the arts. Together, we can assure the arts support a creative New Jersey.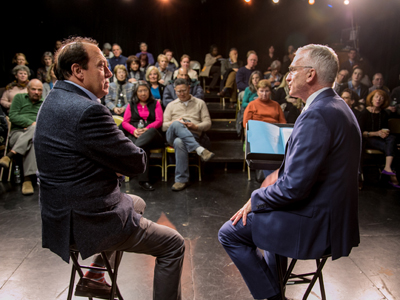 "My family enjoys experiencing the arts at home and when traveling to our favorite destinations throughout our state. We know that our gifts to ArtPride make a difference by supporting New Jersey's creative economy and the arts that enrich our lives."

Priscilla Hopkins-Smith (Pemberton, NJ)
Get More of the Arts You Love!
ArtPride is proud to offer seasonal event information, a robust arts directory, and the latest news on New Jersey's arts scene on our sister site JerseyArts.com.
"My wife and I discovered JerseyArts.com a couple of years ago and we are proud to have an organization that supports the arts right here in our backyard. Whether it is a concert in New Brunswick or a painting exhibition in Montclair, we love attending the events promoted by Discover Jersey Arts. It is because of their great work that we decided to make a donation to ArtPride New Jersey. We appreciate that, thanks to them, there is always something fun and new to discover in New Jersey!"

Ravikanth Kolla (Somerset, NJ)