When you think about public art, what comes to mind? A statue of Lady Justice balancing her scales in front of a courthouse? A three-story, abstract sculpture by a famous 20th century artist? Often, big names and big, expensive projects. All well and good, but there is another approach to public art – one that is opening doors for more artists from a greater diversity of backgrounds. 
When Newark Liberty Airport's Terminal A recently reopened, it made headlines. It was a major upgrade to one of the busiest airport systems in the world, and the largest design-build project in New Jersey history – and, as Governor Phil Murphy said at the grand opening, it's "the largest infrastructure project that I've seen completed during my time as governor."
First lady Tammy Murphy also spoke at the opening, saying, "I am especially proud that Terminal A is showcasing the work of local artists. And it should be noted that it is the first time in 85 years… that public art is playing a role at this airport."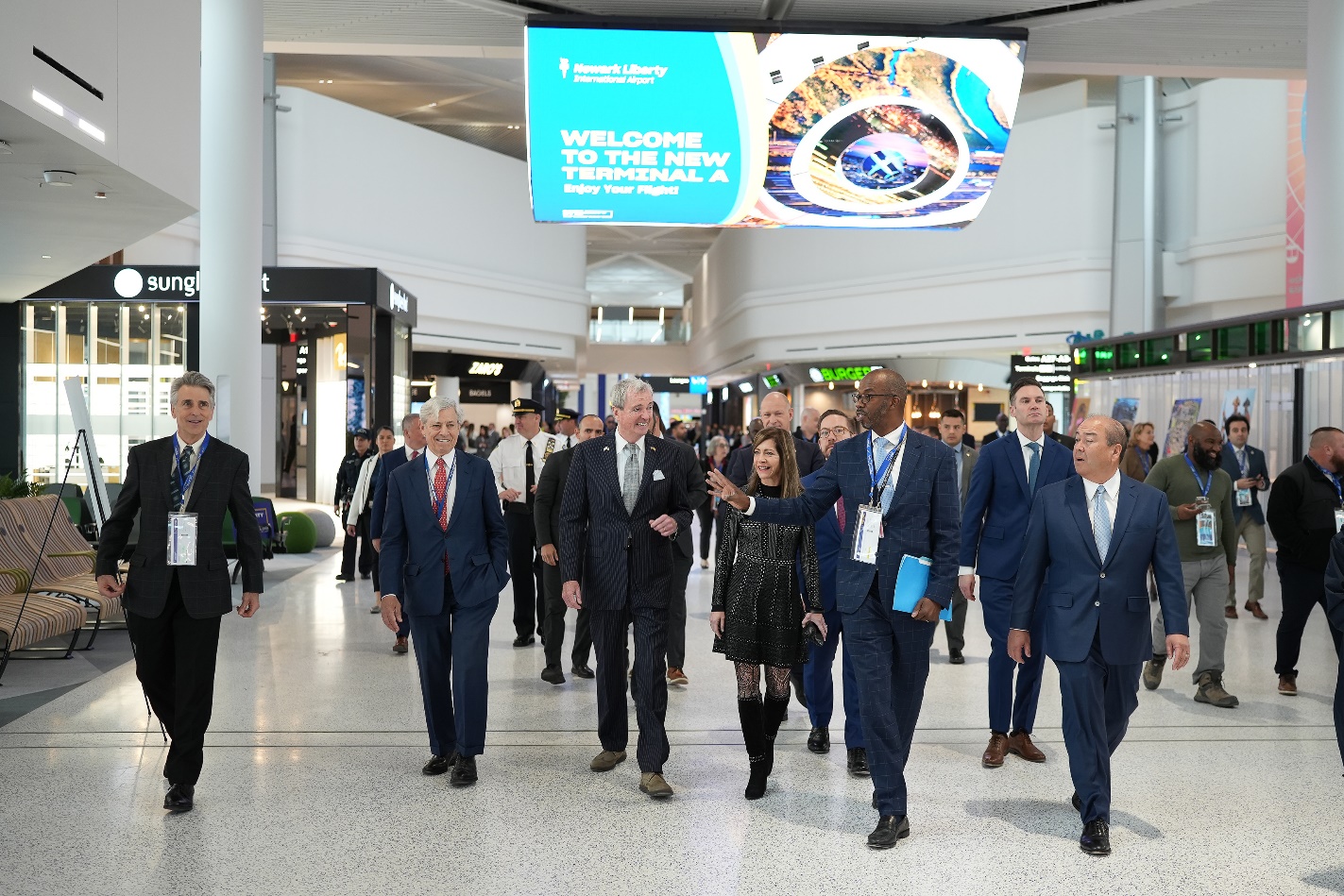 As Director of Community Partnerships and Artist Services at the New Jersey State Council on the Arts, I represent the Council in state-supported public art projects. It's my job to help design and facilitate the artist selection process for projects large and small. When the Port Authority of New York and New Jersey approached the State Arts Council to discuss including art inside the new terminal, I was thrilled that showcasing local artists was a top priority for them.
"Since project inception, we have been committed to the inclusion of the local community into this project," said Port Authority Chairman Kevin O'Toole. "Installing regional art by local artists is a way that we can promote local connections to New Jersey and this new terminal while highlighting the rich diversity of this great state."
Port Authority Executive Director Rick Cotton said, "We want our airports not only to provide best-in-class, 21st century functionality, but also to be inspiring and appealing as travelers move through them. Public art installations by local artists have become a signature feature of Port Authority airports not only to uplift, but also in the case of Terminal A, to provide a New Jersey sense of place."
An arts advisory council that we composed of members of the statewide arts community and local stakeholders helped develop the project scope, themes, and ultimately select the artists whose work would be displayed. In the end, the advisory council decided on three different temporary public art installations. After deliberations by the advisory council and review and approval by Port Authority Stakeholders, 20 artists were selected for a digital exhibition, 3 artists were selected for an exhibition of large-scale friezes, and 3 artists were selected for a photography exhibition.
The digital exhibition, The Art of New Jersey, was the first installation the advisory council conceived. A display company, Moment Lab, was engaged by the Port Authority and the terminal operator, Munich Airport NJ LLC, to design and install a digital gallery of work by local artists that now gleams from above the TSA queue. The advisory council plans to issue a call for artists annually for new, local work to be featured in The Art of New Jersey. That call (and all other new calls for art at the airport) will be made public and shared widely via a number of avenues, including the State Arts Council's Opportunities for the Field newsletter.
Next, Newark-based artist Shoshanna Weinberger was one of 3 artists commissioned to design a frieze for part of a 100+ foot wall space. Her piece, Measured Sunrise, Measured Sunset, will be on display for three to five years, after which the advisory council plans on announcing another call for New Jersey artists.
"As a full-time artist living and working in Newark since 2006, it is wonderful to be recognized for my work. A commission like this means exposure to a wider and larger audience in a highly visible location. My work being on view at Terminal A has already led to more opportunities," said Weinberger. "Measured Sunrise, Measured Sunset is about how civilization measures time between the daily sunrise and sunset. The horizontal or vertical striped patterns signify a specific number of stripes for representing measured time and history: 24 hours, 7 days, and 12 months. Employing black and white stripe patterns become identifiers that create a visual language and coding. The pattern signifies the societal lines of divisions – race, economic, class, political. These stripes also act as universal metaphors for borders, flags, incarceration, fences, animals, barcodes, and my hybridity as an Afro-Carribbean-American. I approached the commission thinking about how Newark Liberty Airport was a connecting link between traveling to and from New Jersey and Jamaica, West Indies, where I was born and my late mother was from. The airport terminal is a portal that over my lifetime connected me to my Jamaican family and my American family."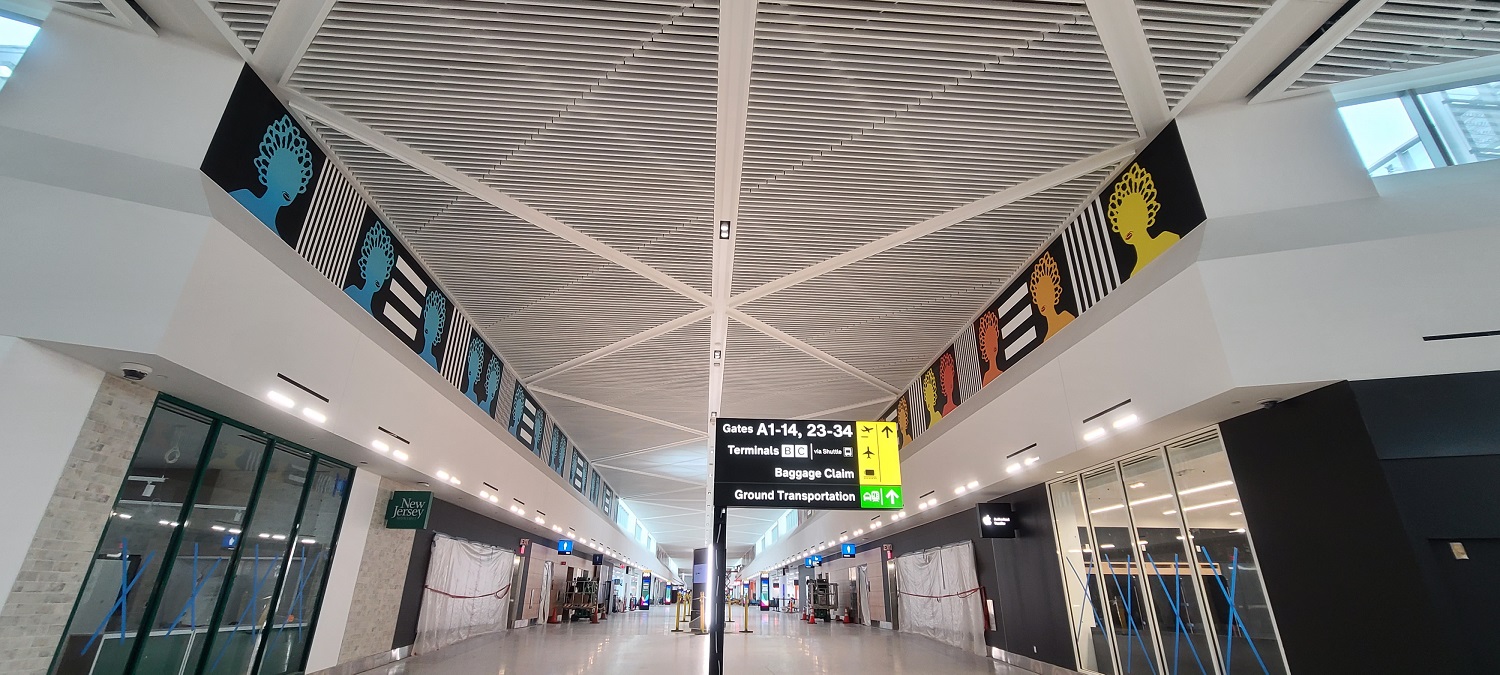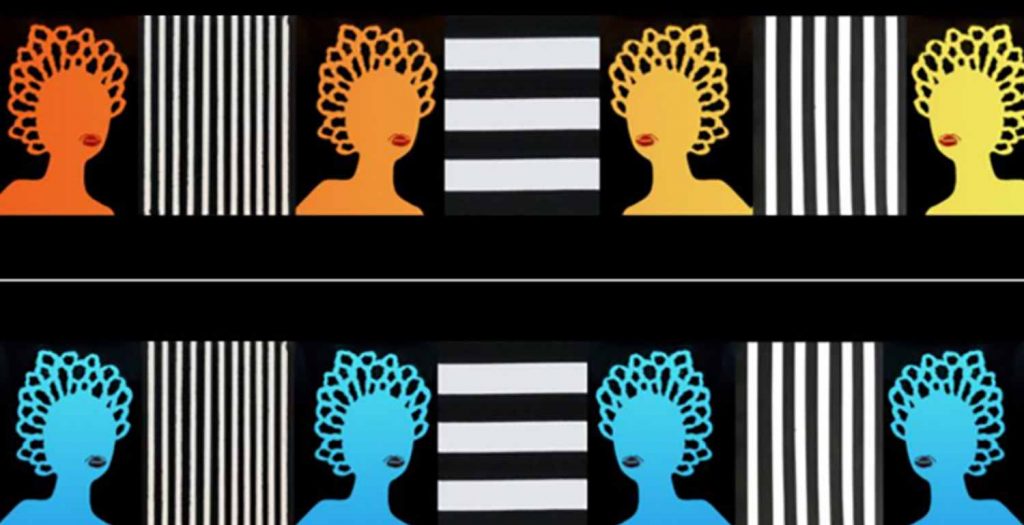 The third call for art was for New Jersey photographers. Three artists were selected, including Brian Branch-Price. His work in Terminal A's Commercial Plaza, Crazy Faith Riders, is stunning, and evokes the state's varied geographies, landscapes and cityscapes.
"The photo of the Black cowboys speaks volumes about what our state has to offer," said Branch-Price. "There's a rich history of them riding through urban areas like Newark, at any given time of year. I'm humbly shouting to the world: Thank you for this opportunity to share a belief in art, a belief in photography, a belief in self, and creativity."
The advisory council expects to reopen this call for photography in a few years.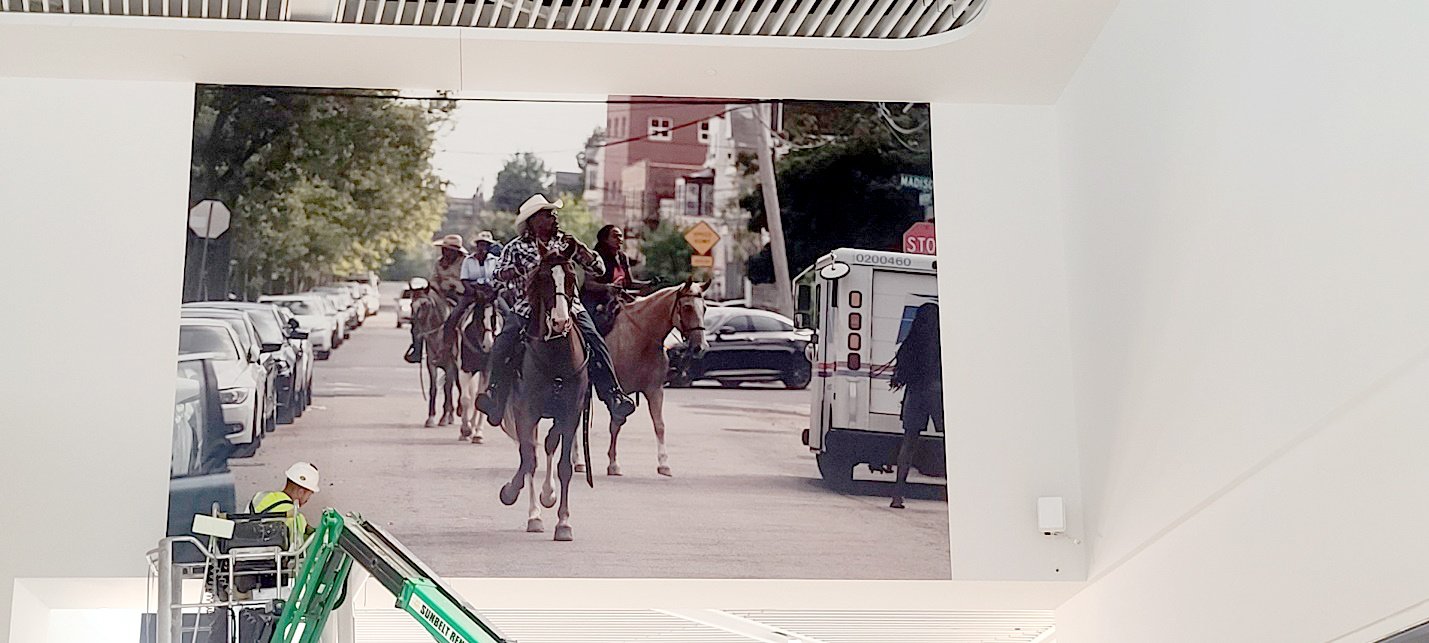 Over the past few years, the State Arts Council has made a concerted effort to provide more opportunities for emerging and midcareer artists, artists of color, women artists, and artists who have previously not been engaged in public art, to expand their practice and share their work in public spaces. One major way we have found success in this effort is by focusing on temporary art projects. Like the 3 temporary projects at the Newark Airport, the Arts Council has expanded opportunities for artists to make public art well beyond large-scale sculpture and permanent murals.
In 2019, we partnered with NJ TRANSIT and piloted the TRANSITional Art Project in Newark Penn Station. The project was such a success that the Council and NJ TRANSIT agreed to continue to fund one project per year at a different transit station. These are paid opportunities – with preference given to local artists – and the work is typically displayed for about three months.
"Temporary art installations, like our TRANSITional Art Project in partnership with the NJ State Council on the Arts, are a great way to provide additional exhibition opportunities for local and regional artists," said Christine Blanco, NJ TRANSIT Assistant Director of Facility Signage and Transit Arts Programs. "Each year we are able to focus on a new station, allowing different parts of the state to be enriched through this local art and community pride."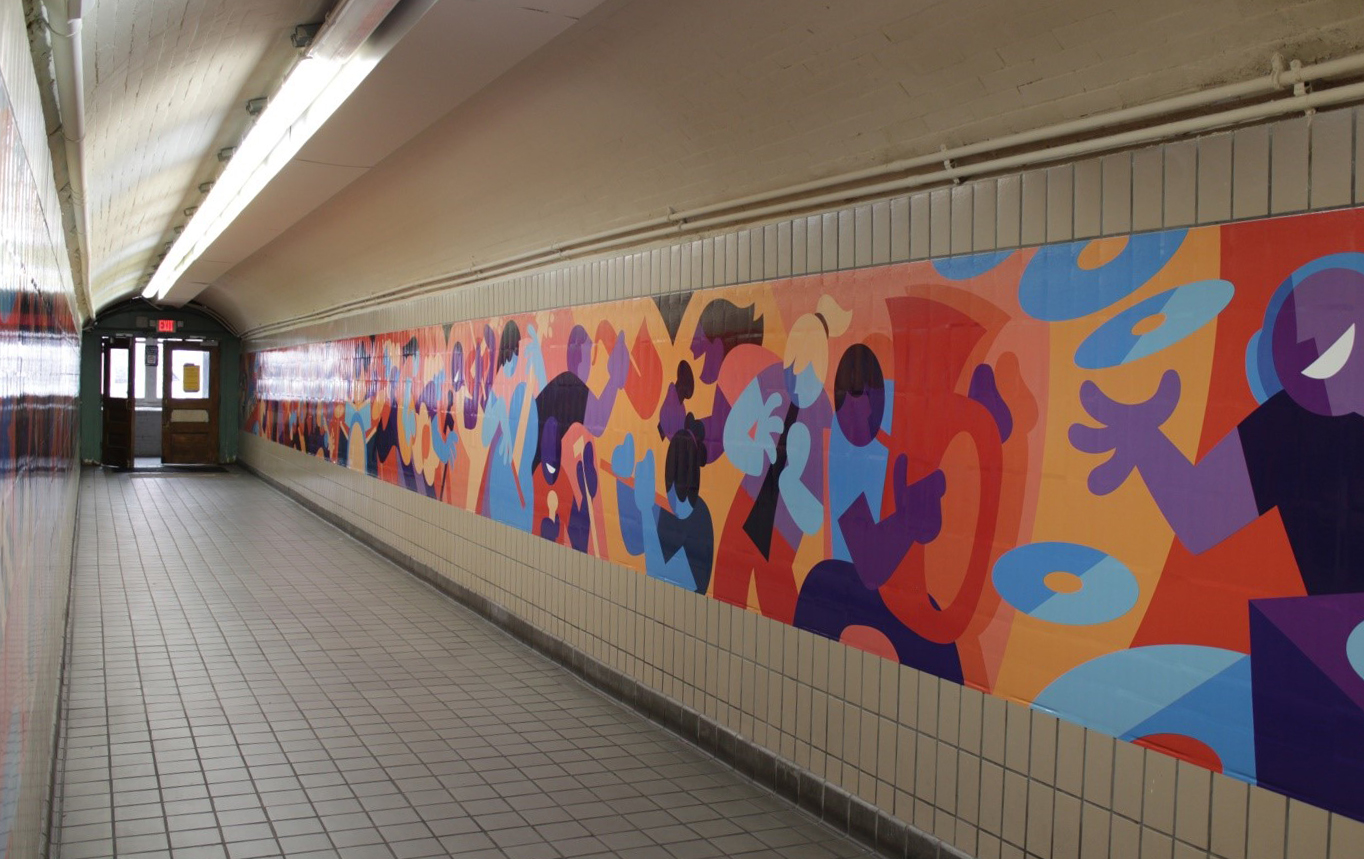 The TRANSITional Art Project has engaged artists in Newark, Atlantic City, New Brunswick, and two calls were just released for artists for the TAP project in Camden, which will be installed this summer. Those calls can be found here and here.
By choosing to focus on public art opportunities that are revolving, more artists can be engaged. This is especially significant for emerging artists and artists who haven't worked in the public art field before. This also means more artists are getting paid for their work. We're also seeing public art being made by a more diverse group of artists.
The State Arts Council works with many State agencies to facilitate the selection of artists for state-funded projects. Breaking a project budget down into several temporary projects will allow us to engage more artists in paid commissions.
Temporary projects also have the advantage of being easier to receive permissions and approvals to install. Permanently placing artwork requires many more levels of approvals, permits, etc. than a temporary project. For artists new to public art, this makes the project easier to undertake, and helps them develop confidence, skills, and experiences that can then support larger public projects down the line. The experience gained by emerging artists through temporary projects results in a larger pool of New Jersey artists who are comfortable applying for public art commissions.
Temporary public art projects meet New Jersey's residents where they are - in their neighborhoods, transit stations, even on crosswalks on their streets. These interventions bring art to people in their daily lives. Viewers notice them because they are new, they are interesting and they draw attention. By making the projects appear only for a short time, they never fade into the background. For the venues and neighborhoods, it means they are able to refresh their look periodically. For the community, it means they are able to see themselves represented in these locally-made works.
That's how culture is created and celebrated.