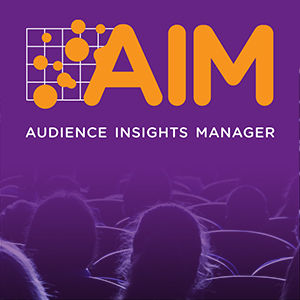 Putting powerful patron data analysis tools in the hands of arts organizations. 
 
Stop the guesswork and let your data find the target! Start making decisions based on the valuable insights you can gain by subscribing to our community database of more than 1.5 million unique households of qualified cultural consumers.
Upload your patron data to a secure, centralized database using the TRG Data Center tool. Once your data is in the system, we'll run it against other contributed patron data, as well as third-party databases, so you can learn more about your audiences' behavior.
You decide whether you want to share certain segments of your data with other arts groups in the network to expand your audience pool or keep all of your data private.
Whether you choose to engage in list trading or just use your data for internal research, the insights you'll gain from AIM will help you target your marketing materials, identify potential new donors, set benchmarks for diversifying your audiences, make your case to funders, and even guide your programming. There's really no limit to what you can do with this powerful new information – and AIM lets you have it all for a fraction of the cost of going it alone!
"AIM is instrumental for our marketing, programming, and development efforts. It provides affordable access to data that informs organization-wide decisions."

Pamela Brant | President, Symphony in C
What does AIM do for you?
Identify potential donors from existing audience pools.
Provide accurate audience demographics to funders.
Market your programs more effectively to existing patrons.
Grow your audience by using community data to develop targeted list trades.
Develop benchmark audience data to support equity, diversity, and inclusion efforts.
Access patron data from cultural organizations in both the New Jersey and Philadelphia markets.
Develop programming to best serve your patrons based on who they are, not who you think they are.
Create a secure offsite disaster recovery backup of your patron database.
Contribute aggregate census data to support local, statewide, and national research and advocacy efforts.
"AIM provides us with a deep understanding of who makes up our audience and has made it possible for us to develop smart strategies to bring in new audiences and broaden our demographics. AIM is a powerful tool that makes every campaign more effective and gives us the ability to measure our success."

Hawley Abelow | Director of Communication, Marketing and Membership, Paper Mill Playhouse
How much does it cost?
Your annual subscription covers unlimited access to the AIM community database through the web-based Data Center interface. Update your data, run reports, and request lists -- and do it as often as you like! 
As the field continues to recover from the impact of the COVID-19 pandemic, ArtPride is freezing AIM 2024 subscriptions fees at the same heavily discounted rate as 2023. 
| Organization Operating Budget | ArtPride Member Rate | Non-Member Rate |
| --- | --- | --- |
| Up to $499,999 | $125 | $225 |
| $500,000 - $1.9 million | $250 | $350 |
| $2 million - $5 million | $375 | $475 |
| Over $5 million | $500 | $600 |
When requesting lists from other groups you may incur some minor licensing fees based on the demographic and psychographic filters you pull. These fees never apply to reports you run on your own data and any applicable fees will be clearly outlined before you purchase. TRG Help Desk support in excess of two hours will incur additional fees. Subscriptions automatically renew unless opted out in writing a minimum of 30 days prior to the start of the next renewal term. There are never any surprises. 
ArtPride Member Rate
Organizations must be current with their ArtPride dues to qualify for the member rate listed above. Your rate will be automatically applied at checkout (no promo code required).
Who is eligible?
Organizations must meet one of the following criteria to be eligible for AIM:
ArtPride New Jersey Member Organization
New Jersey State Council on the Arts Direct Grantee
New Jersey Theatre Alliance Member Organization
South Jersey Cultural Alliance Member Organization
How do I get involved?
Subscribe Today
AIM 2024 Subscription Deadline: Jan 18, 2024  
Access to AIM's Data Center will begin at the start of the subscription year on Feb. 1, 2023 and run through Jan. 31, 2024.
Resources
Learn More
Schedule a demo with TRG Arts to see AIM's Data Center in action.
For specific questions, please contact:

AIM is presented by the ArtPride New Jersey Foundation in partnership with TRG Arts.
Co-founded by and currently supported by funds from the New Jersey State Council on the Arts.